So, after almost passing out while sitting at BB's dance practice a few weeks ago, I went to the doctor and they ran some bloodwork. Results came back as 'slightly' anemic…. results should be 12 and I was at 11. hmmm. okay, so I tried eating more iron rich foods. Went back to doc and was still really, really tired and weak; sometimes dizzy. So she gave me an rx for iron supplements. But she also told me that it could take a MONTH before I feel results. Oy! That's a long time to wait! So i began taking the rx. Went back to doc a week or so later and wasn't feeling much better; just really tired and weak. They took MORE blood and ran a more thorough panel. Turns out that my iron had dropped even more. Not good!  When they called with that result, I immediately went out and purchased Floradix (www.floradix.net) iron and herbs.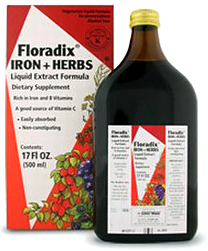 WOW! What a difference! After the 2nd dose, I could tell that I had more energy and just felt better overall. I take it twice a day. I knew much of the energy was likely from the B vitamins also in the supplement. I'll TAKE IT!
I'll be honest, it doesn't taste the greatest.  It could be worse, sure.  But still not yummy by any stretch.  And, it's not cheap.  But it's worth it.  Oh, so worth it!
So I went back to my doctor for another check-up and she went over all of the results of the latest bloodwork.  Turns out that I was/am having trouble absorbing the iron.  And my b12 is REALLY low.  She said that's probably the key.  She suggested B12 injections.  I asked if I could continue taking the Floradix and see how that does for me until the next visit and she agreed.  I need to say that I LOVE MY DOCTOR!!!!  She said that is a good plan and she took out a pen and paper and wrote down info so that she could look up Floradix.  I know it has 7.5  mcg of B12 per serving.  I don't know how an injection may compare to that.  All I know is that I'm feeling MUCH better now.  I told my doctor that I feel 'normal' pregnancy tired now. I can deal with this.  This is normal.  I've got 2 young children and I'm 36 weeks pregnant.  I expect to be tired.
So, I highly recommend Floradix.